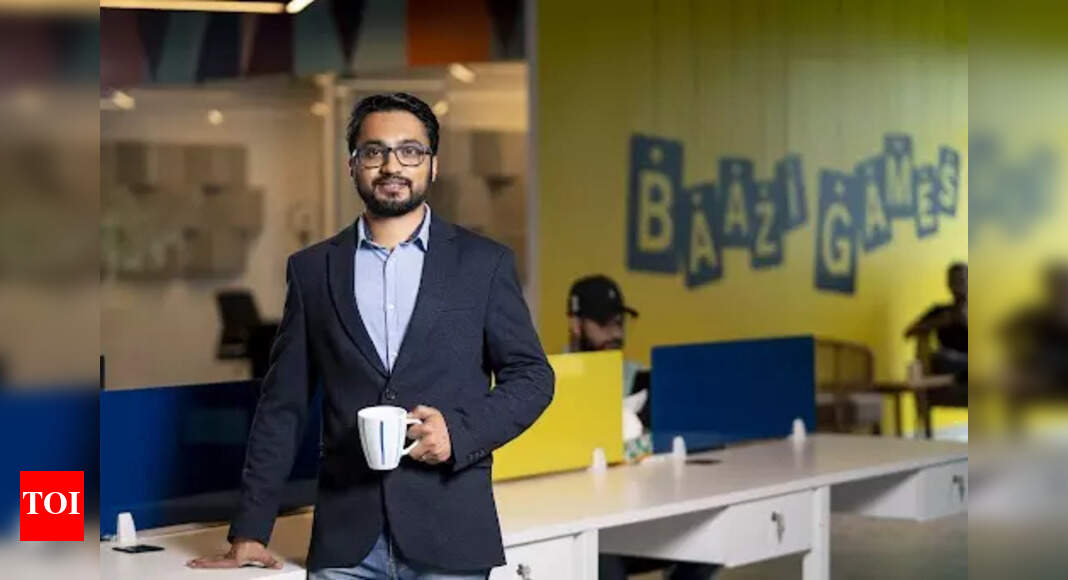 Avneet Rana, co-founder and CTO, Baazi Games: For PokerBaazi, technological innovation is the core value
What was the inspiration behind a made in India poker application ?
During our college years, all the founders had a major affinity for poker and after graduation, we wanted to be associated with the game of poker, expand the poker ecosystem and make it a sport in India. We knew poker was a major sport in the West, but when our CEO Navkiran Singh visited Las Vegas, he saw the true potential of gambling, that's when the thought of PokerBaazi came to him. After many rounds of discussion, we concluded that India needed a local product that would give users a 30-40% better experience than the options available to play poker.
At launch in 2014, we identified market gaps and understood exactly what users want. The basic and biggest problem was to help users understand the game and then take it to the next level. Therefore, it was necessary for us to build an in-house technology team that understands Indian audience-centric barriers and addresses very basic issues like easy game explanation, ease of digital transactions, slow internet speed, etc. Additionally, we had a clear vision in place that we want to be known as an Indian sports technology company working towards building a 360 degree ecosystem for poker in India and creating a category of its own.
Tell us about some of the app's main features?
We recently launched a brand new PokerBaazi app and some of the highlights that stand out include: The new AI system dramatically reduces players' browsing time, and they can just focus on their game. The new app also features a winner tab which will now allow players to browse the winner's profile and share real-time updates regarding the match won. The design and UI overhaul introduced a stack of new features such as next-gen graphics, minimal design language, high-resolution gaming, haptic feedback, state separation, and navigation maps .
We've also introduced advanced opponent stats and player career stats that give players a chance to learn from past performances and give them the opportunity to take their game to the next level. In the new app, we also have a fully integrated payment system that allows for a smooth and seamless user experience for poker customers. Thanks to technological advancements, we have also ensured reduced battery consumption, automatic app updates and reduced RAM consumption. Thanks to portrait mode, players can play online poker with just one hand.
How important is the role of technological innovation in improving design and user interface?
For PokerBaazi, technological innovation is the core value that has helped us scale our business and acquire new users. Therefore, having a strong in-house technology team is our driving force. All our games are multiplayer, fast and seamless user interface (UI) is the most important part of it. A user spends an average of 125 minutes per day on the PokerBaazi app and technological innovations are key to delivering a superior experience by covering the finest design and user interface details. For example, having portrait mode for a game that can be played with one hand that is otherwise played two-handed in most cases is a classic example of fusing technological innovation into design.
Tell us how you leveraged AI and ML to improve the app experience?
AI and ML help improve the game and product experience for gamers by providing a more personalized experience. It also has applications in content marketing by helping to create user journeys with increased efficiency, leading to a landscape where users have instant and reliable access to what they want, reducing clutter.
We use real-time probability analysis to help the player calculate the odds of winning. Additionally, AI&ML also plays a key role in collecting data for the recently introduced stats feature, which gives players a chance to learn from past performance and gives them the opportunity to take their game to the next level. For example, knowing a statistic about the frequency of poker hands you play (called VPIP), can help the player better control the game. AI&ML also plays a key role in user personalization to deliver a tailored experience on the 'application. There are also several primary benefits, including the most important use case of fraud mitigation.
What do you think is the biggest USP of the PokerBaazi app?
PokerBaazi.com was started with the vision of making poker a family game in India. Along with a poker-loving core team, our biggest USP is deeply rooted in the fact that we've always taken a customer-centric, technology-driven approach to our product. We have always thought about staying closer to our users, collecting their feedback time and time again, and leveraging our in-house technology to integrate it in the best possible way into the app.
What customization options does the app offer? How do you think they act as differentiators?
PokerBaazi.com aims to provide top notch design and user interaction. Our software offers our users a variety of customization options. Themes, for example, are very important when it comes to enjoying the game of online poker as they create a virtual environment that allows players to focus on the game. app includes new themes like Vegas table theme and futuristic table theme plus additional experience defining features like expressive emojis, win probability, opponent stats, messages chat shortcuts and customization of chat visibility. Many gameplay customizations are available on the gaming table to suit a player's ease of play. Color schemes also play a key role, and the app has been carefully colored with darker themes to reduce strain on the eyes.
What do you think of the mobile gaming landscape in India, how do you think it has changed?
Gambling business in India is worth approximately $2.2 billion and is expected to grow at a CAGR of 30% to reach $7 billion over the next five years, more than tripling in size. Due to the availability of affordable smartphones, which has increased by 15% year-on-year over the past five years in India, 4G high-speed internet penetration and lowest data rates globally, mobile gaming has experienced a dramatic boom in the pandemic and now accounts for the bulk of the gaming market. These elements, coupled with the rise of mobile game companies, contribute to the growing desire for content among Indian youth.
The behavior, preferences and lifestyle of Indian customers have evolved significantly in recent years. Over the past few years, the number of online gamers has increased dramatically. The number of first payers for games has also increased and the card games, fantasy and casual games sector mainly has the fastest growing population. 20% of the approximately 400 million active gamers in India choose to pay for games. This has directly contributed to the expansion of the skill-based games industry. Moreover, given the ever-changing demands of online gamers, the company has a great chance to innovate and meet these demands. It cannot be understated that the gamer still defines how other elements of the gaming industry evolve.
Another important component of this ecosystem is the product/game. Every brand today recognizes that the unique characteristics of its product will influence its ability to attract and retain users. Therefore, I clearly see that the bullish phase of mobile gaming is here to stay.
A message to budding app developers in the country?
We believe app developers are enjoying a very exciting time right now. As the gaming industry experiences tremendous growth, the industry welcomes budding developers with open arms by creating a new demand for their work. The demand for talented mobile app developers is increasing as the demand for mobile apps increases. Budding app developers must be willing to experiment in a highly competitive and innovative market to stay ahead. At the same time, it is always good to improve because technology is constantly evolving and new areas are opening up every day. Today, it's not about the big tech companies anymore, it's more about finding the right fit for your talent that the booming start-up economy has to offer.