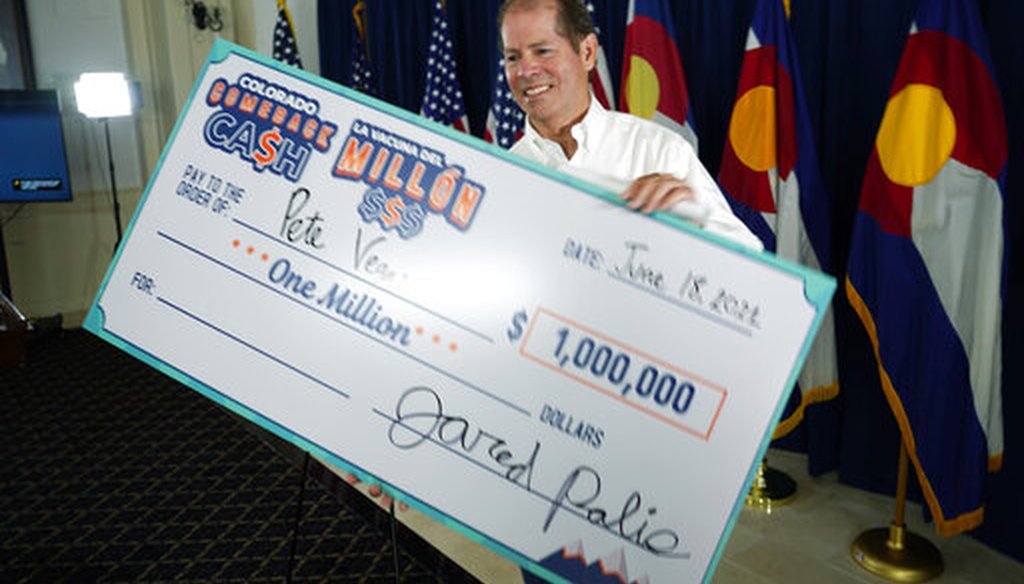 Did the vaccine lotteries work? Studies so far show mixed results
This summer, a wide range of states rushed to create lotteries to get citizens to get vaccinated against the coronavirus. A total of 26 states offered some type of incentive, with the majority using a raffle, according to the National Governors Association.
On May 10, Ohio became the first in the country to run a weekly lottery, offering $ 1 million to randomly selected vaccinees over the age of 18 and full four-year scholarships to eligible participants under the age of 18. years.
The plan aimed to revive lagging vaccination rates in response to public health concerns that prompt and widespread vaccine delivery was needed to most effectively curb the transmission of SARS-CoV-2, especially since More deadly variants have appeared.
In Georgia, however, Governor Brian Kemp refused to follow suit.
"Lotteries haven't worked in other states," Kemp said at a press conference on July 29. "Government mandates have not worked in other states," he said. "People at this point in the pandemic, they know how to handle it. They know what to do. Some of them have been hesitant to do it."
Some states, including Louisiana, Washington, Maryland and Michigan, have said they've seen measurable increases in participation in vaccines that they attribute in part to their state's lotteries. Others don't. California's Vax for a Win, which included holiday giveaways and tickets to Six Flags theme parks, failed to motivate residents to get vaccinated: the state saw a 65% drop in seven-day average of the first daily doses. And in West Virginia, vaccination rates continued to decline after the lottery was announced.
Even in states that say they have seen progress, the lottery may not have been the cause. Many factors could explain an increase in the raw number of vaccinations, such as infection and vaccination rates at the time of the lottery launch and the demographic profile of the population, said Robert Williams, professor of health sciences at University of Lethbridge and coordinating researcher of the Alberta Gambling Research Institute.
The fortuitous moment of other events, such as the emergence of vaccination mandates by employers, can also complicate the task of determining whether lotteries have worked.
As a result, a more reliable gauge is academic research which seeks to control for any complicating factors.
At least five academic studies have looked at this question, and their results have been mixed at best. Here's a closer look. (Kemp's office did not respond to a request for this article.)
A sign advertising the Ohio COVID-19 Mass Vaccination Clinic at Cleveland State University on May 25, 2021. (AP)
Ohio Lottery Studies
The Associated Press reported that the Ohio Lottery appeared to be working at first. In the week following the announcement of the "Vax-a-Million" program, there was a 33% increase in the number of people in Ohio aged 16 and over who received their first COVID-vaccine. 19.
Still, the state's immunization rates remained well below figures from early April and March. In fact, Ohio ended its five-week lottery in mid-June with Gov. Mike DeWine noting that the first-week jump in vaccines had been followed by less than expected results.
"It is clear that the impact has diminished after this second week," DeWine told reporters.
No less than four studies, including only one peer-reviewed to date, have been published on the Ohio experience.
Two articles found disappointing results.
• In a peer-reviewed article published July 2 in the Journal of the American Medical Association, researchers at Boston University School of Medicine used data from the Centers for Disease Control and Prevention to compare daily vaccination rates in Ohio with those of the country between April and June.
The authors wrote that the study found no evidence that the Ohio Lottery was associated with increased vaccination rates. But he also found that the vaccination rate in Ohio has slowed less than the national rate.
Boston University researchers noted that the Ohio Lottery announcement coincided with the extension of vaccine eligibility by the United States Food and Drug Administration on May 10 to teens aged 12 at 15. This was a change they said could have an effect on adult vaccinations as well.
• A working paper released the same month, by researchers at Stanford University, compared complete vaccination rates in Ohio to a composite of other states that most closely matched Ohio demographically.
"Contrary to our initial assumption, we found that after the lottery was announced, full vaccination rates in Ohio were slightly lower" than in the comparison group, said Lief Esbenshade, one of the authors. of the article.
The other two articles on the Ohio program found a positive impact.
• A study, done by economists at Oberlin College, compared first-dose vaccinations in counties along the Ohio border to those in neighboring counties of Indiana, Michigan and Pennsylvania. The group saw an increase in first-dose vaccinations, with larger increases in more populous counties.
• Another study, conducted by researchers at the University of California-Santa Cruz, compared vaccinations in a similar fashion to the Stanford study, using a control group from states demographically similar to Ohio. He found that the program increased vaccination rates in Ohio by about 1.5%.
Methodological differences could explain some of the variations. For example, the Stanford article, which showed lower rates after the lottery started, looked at full vaccinations as opposed to the initial vaccinations.
"It is possible that some of the differences between the articles can be explained by the fact that the Ohio Lottery induced a short-term increase in the first doses that did not translate into a sustained increase in the full vaccination rates. "said Esbenshade.
We found another academic study on a lottery outside of Ohio. It was by a team of researchers from the University of Pennsylvania and the University of Chicago; he looked at three vaccine lotteries in Philadelphia. The researchers concluded that there was "limited return even on high probability vaccine lotteries."
Louisiana Governor John Bel Edwards speaks next to a sign promoting the state's coronavirus vaccine lottery on July 23, 2021, in Baton Rouge. (AP / Melinda Deslatte)
Lack of consensus
The researchers agreed that the mixed results so far suggest uncertainty about whether vaccine lotteries work.
"There is no firm consensus," said Jeremy West, one of the co-authors of the article from the University of California at Santa Cruz.
Future studies should help refine our knowledge of what works and what doesn't, said Allan J. Walkey, one of the authors of the Boston University article. "I think there will be more studies soon that will assess the effects of lotteries in several states and provide a clearer picture of the effectiveness of lottery incentives on vaccination," Walkey said.
Researchers told PolitiFact that if the costs are modest, lotteries could be helpful in increasing vaccination rates, but other tactics may be more profitable.
"The funds used for lotteries can potentially be better used to focus on misinformation about vaccines, as well as awareness, engagement and talk with networks of unvaccinated people," Walkey said.
Meanwhile, policies that don't involve direct pricing at all, like requiring vaccines for employees or students, may be more effective at this point in the pandemic, said Kevin Volpp, co-author of the article on Philadelphia Lotteries.
"It is time for governors to use their power to demand immunization wherever possible and not rely on financial incentive programs or other 'lighter' strategies," Volpp said.
In recent weeks, Washington state has required all teachers to be vaccinated. California, the District of Columbia, Hawaii, Massachusetts and Nevada are among states that have required vaccination of state employees, sometimes with an option to fall back on weekly testing, while Maine has demanded that officers health care providers are vaccinated.
At most, lotteries are only part of the answer to rising vaccination rates, the researchers told PolitiFact.
"These incentive programs are not going to completely 'solve' vaccine hesitation," West said. Even the most optimistic studies found a small positive impact, so it was "not that everyone in Ohio got vaccinated – although it is also true that every vaccination they get helps."