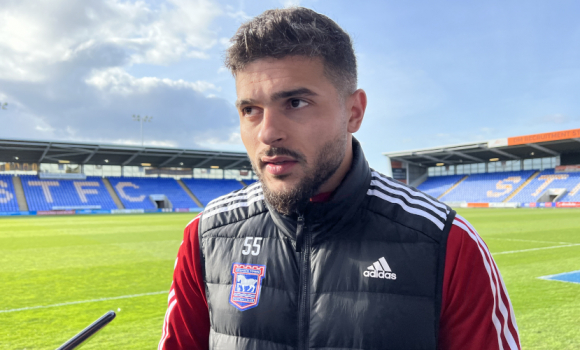 Morsy: We need to be more ruthless, we need to see the games come out – Up News Info
Morsy: We need to be more ruthless, we need to see the games come out
Sunday, April 10, 2022 10:39 AM
Skipper Sam Morsy says Town must learn to be more ruthless to see the games finished, with the Blues surrendering a one-goal lead in yesterday's 1-1 draw at Shrewsbury following Cameron Burgess' red card at the 75th minute.
Town took the lead through James Norwood in the sixth minute and controlled the game afterwards, but did not add to their lead, before Burgess was dismissed for a second bookable offense after he pounced on goalkeeper Marko Marosi.
Substitute Shaun Whalley beat the leveler in the 84th to earn the draw, the fourth of Town's last five games on the road.
"Disappointing, needs improvement, the level is not quite where it needs to be at the minute," Morsy said.
"We showed great glimpses, we scored a great goal, controlled the game in most games, but we have to be more ruthless, we have to score the second goal and we have to see the games come to an end.
"It's far from where we need to be, but it certainly won't be for lack or work, we are working very hard.
"We know where we need to improve and it will be a journey to try to get there and it will be a daily task to work this season, this summer, pre-season, next season to get where we want to be because we need more.
Despite feeling Town weren't at the level they needed, the 30-year-old said he and his teammates were comfortable for most of the match.
"Really comfortable," he said. "It's just that killer instinct to score the next goal and it's hard the way teams prepare so deeply against us but you can't be a football snob, teams have to do what they think best.
"They probably would have been happy at 1-0, strange as it sounds, but when you go down to 10 men he's a real leveler.
"The goal is a World Cup but we don't want to be that team or that club that makes excuses because once you go down that path you go down a rabbit hole. We have to be fully responsible, we have to be better , we have to work harder and we need more.
On Burgess's dismissal for his second booking, he added: "I don't think he hits the keeper, to be honest. But in football today any impression of aggression is a yellow card.
With the Blues down to 10 men, the home side felt they could get something out of the game.
"Of course you have nothing to lose when the team is reduced to 10 men, there is absolutely nothing to lose, go for it, right?" The Egypt international continued.
"To be fair even then I don't think they created a chance, the boy scored a World Cup, to be fair it's an amazing goal but we can still be better in the first phase and the second phase, so we are without looking anywhere.
He added: "I don't think they shot on goal, but that's the reputation we've built. When people play at Ipswich they play two banks of four they let us have possession they let us do whatever we want with it and it's up to us to be aggressive and ruthless to get the second goal, the third goal and it's a challenge and it's difficult.
"It's harder to do but it's very rewarding and those are the questions we need to find answers to."
Morsy won promotion to previous clubs Wigan and Chesterfield, which should have answered those questions.
"I think in Wigan we got 99 points, something like that," he recalled. "It starts with a good pre-season, a good start, momentum, confidence, when you win every week, you're up there, things just seem to fall for you, that's how it is. happens in football, momentum is a very powerful thing whether it's with you or not with you.
"I think it's only one defeat out of 13 now so we're not doing badly but for where we want to go, for the levels we want to reach, for what the fans can see, we have a lot of work to do."
Town have four games left this season and although the play-offs are now out of reach barring miracles, Morsy believes the remaining fixtures are important.
"We have some really big games coming up," he insisted. "We want to end the season well, we want to end the season with victories.
"The fans travel in droves, provide incredible support, they deserve a little more than what we give them.
"We are doing well but we want to give them more because we are laying the groundwork for next season and when you are at a club like this, you are moving in one direction, the management team has to be ruthless. , then you're always playing for your future, always.
"We have to be better, we have to be better. There are so many encouraging signs, we are so close but still so far.
Photos: TWTD/PagePix
Please report offensive, defamatory or inappropriate posts using the links provided.
AlanG296

added 11:59 – April 10

"more" ruthless? We are not ruthless at all.
Counters

added 12:44 – April 10

I love Morsy but TBH, we've had a variety of players saying that all season. A lot of fans, me for one, kinda knew at halftime that it was going to end 1-1 because it just keeps happening.
ringwoodblue

added 12:44 – April 10

Sorry but I hear "we have to be…" from different club reps every week. Next season things will have to be.
johnwarksshorts

added 12:48 – April 10

Need more Morsy type players in the team, real fighters and influential team leaders. We only need 2 or 3 to make a real difference and give us that edge and that extra quality.
raycrawfordswig

added 13:39 – April 10

No one is safe as the owners have already proven with the Cookie Monster. They invest a lot of money in this project and expect to see better results.
jas0999

added 14:09 – April 10

We have to put everything back in place for next season. The reality is that we need to score more than one goal per game.
suffolkboy

added 14:38 – April 10

All season, the fault lines, as such, have been evident — and remain so!
We don't score enough goals, we come close to wasting corners, we don't make the most of free kicks AND too many players seem to 'lose their minds' in critical circumstances. When cool, calm judgment and good technical execution are key, as in other teams and sports, our shortcomings show up!
Certainly KM and Co have come to conclusions all around the team and IN HOUSE potential, and soon we will see indications of the changes and reinforcement to bring in character, backbone and probably experienced physique for producing greater resilience throughout.
It's always exciting to be an Ipswich supporter; so keep accentuating the positive, eliminating the negative (and don't mess with Mr in between)!
COIB
You must be logged in to post your comments