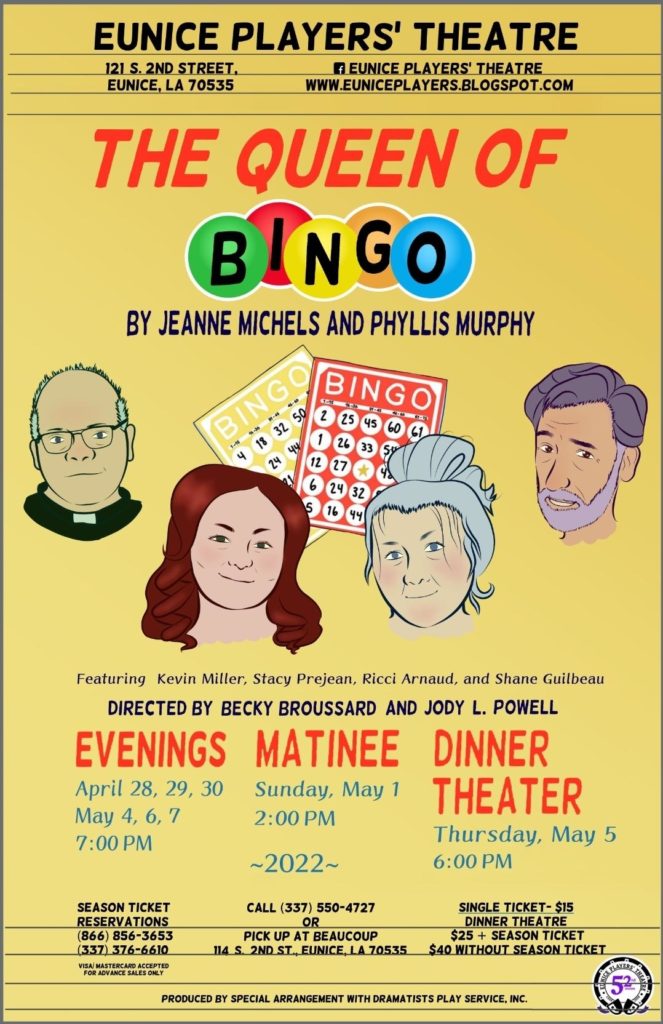 The Queen of Bingo | Big 102.1 KYBG-FM
Eunice Players presents 'The Queen of Bingo', a two-act comedy centering on two sisters and best friends, Sis and Babe, who share a love of bingo, especially at St. Joseph's Church where they do the dirt, laugh like schoolgirls, share old memories and solve their problems. As a feature of each performance, members of the public will be able to win a special gift during the show.
The play is directed by Becky Broussard and Jody L. Powell, and written by Jeanne Michels and Phyllis Murphy.
MANUFACTURING INFORMATION
Venue: Eunice Players Theater
Address: 121 S. Second St., Eunice, LA
Appointment:
– Evenings at 7 p.m. on April 28, 29, 30 and May 4, 6, 7.
– Matinee at 2:00 p.m., Sunday May 1st.
– Dinner theater at 6 p.m., Thursday, May 5. Dinner includes steak, side dishes, dessert and coffee.
TICKET INFORMATION
– Admission is $15 for individual tickets for all ages.
– Dinner Theater is an additional $25 for individual tickets and season ticket holders.
– Tickets can be purchased at Many (114 S. Second St.) or by calling 337-550-4727 to bill over the phone. Visa and MasterCard are accepted for advance sales but not at the door.
– Subscription holders must call the phone number listed on their subscription to make reservations.
CAST
Ricci Arnaud as baby
Stacy Prejean as Sister
Kevin Miller as Father Mac
Shane Guilbeau as Bingo Caller